Travel money or prepaid currency card: which is best?
Posted on June 18, 2012
Comment (0)
Holidaymakers should read the small print on prepaid currency cards carefully – any savings can soon disappear
Prepaid currency cards are, their promoters claim, safer than carrying cash, give holidaymakers better exchange rates and are cheaper than using a debit or credit card abroad. But beware the small-print charges that can soon wipe out any savings the cards may offer.
This week Guardian Money compared the main players in the prepaid card market. They can offer good exchange rates, but we also found some with add-on ATM fees and "inactivity" fees that for many people will make them more expensive than using traditional debit cards.
What are they?
Prepaid currency cards look just like a credit or debit card. They tend to be issued by specialist money changing companies, such as Travelex and Caxton FX, and allow you to preload money from your bank account on to the card, fixed at that day's exchange rate. Lots of people think that the current euro/sterling rate is attractive at around €1.24 to £1. But others think it might go to €1.30 – or it just as easily go back to €1.15. With a prepaid card, you get the rate on the day you convert your cash.
Getting hold of a card is easy for anyone with a UK bank account. You normally apply online, choose the currency in which you would like your card denominated, load it with funds from your current account and wait for it to arrive in the post: typically five to seven days later. You can top up and check your balance online, by phone or, in some cases, by text.
Do you get better exchange rates?
Yes and no. According to comparison site mytravelmoney.co.uk, prepaid cards beat airport currency exchange rates by 8% and those offered by bureau de changes and travellers cheques by 4%. The comparison with your bank is less easy. Most banks use the Visa exchange rate applicable on the day, and then add a loading. At Lloyds bank, for example, if you use your card to buy something in El Corte Ingles (Spain's largest department store group) while on holiday, the bank will use the Visa exchange rate of the day plus a 2.99% fee. Use the ATM outside El Corte Ingles and it charges the Visa exchange rate, plus 2.99%, plus 1.5% of the amount withdrawn, with a minimum of £2 and a maximum of £4.50. But some banks have cheaper deals: moneysavingexpert.com recommends using credit cards Halifax Clarity and Santander's Zero. These are cheaper than using any prepaid card.
Which prepaid card gives the best-value exchange rate?
We did not check all the prepaid cards, just the major ones, and we only took a snapshot on one day (Monday 11 June). But we found quite a difference. FairFX and Caxton FX gave us much better exchange rates than MyTravelCash or Travelex (see table). But note that the exchange rate is just one way to judge these cards – there can be other fees on top (particularly FairFX's ATM fee) which should come into your decision.
Will banks give you a better deal?
We checked the Visa rate for 11 June, and found that once the typical bank loading of 2.99% is added the prepaid cards were cheaper, but not hugely so. The main saving is not on purchasing but on withdrawing cash at ATMs.
What are the other charges?
Lots. Some have a start-up fee of around £10. FairFX charges a fee for foreign cash machine withdrawals of €1.50 or $2, so don't use this card as a substitute for a debit card at a foreign ATM. "Obviously it costs more to withdraw small amounts of cash regularly, so we advise paying by card as much as possible in shops and restaurants and making just one or two larger cash withdrawals while away," a spokesperson said.
The major drawback with prepaid cards is if you leave a balance on them, say for your next holiday. Don't do it: you may have money swiped off your balance as an "inactivity fee". Both My Travel Cash and Travelex charge a £2 monthly inactivity fee once a card has not been used for 12 months. FairFX and Caxton FX do not.
Holidaymakers who haven't spent all their balance while away will want to redeem the unused currency at the end of the trip. Again there's a catch; you'll be charged a redemption fee of £1.50 (Caxton FX), £10 (FairFX), £5 (My Travel Cash) and £6 (Travelex).
I'm going off these cards. What other advantages might they have?
There is no overdraft facility so you cannot run up a debt on them. This allows you to budget exactly for the amount of money you want to spend while away.
Prepaid cards are typically linked to the Mastercard or Visa network and are protected, like bank cards, by a chip and pin system. But, unlike bank cards, they are not connected to your bank account or credit card account. So, if lost or stolen, fraudsters cannot get access to your money beyond that loaded on the card.
The obvious advantage over carrying large amounts of cash is that if your card is lost or stolen and you report it immediately, you can get a replacement card with any unused funds transferred for free (Travelex) or a fee: £3 (My Travel Cash); £5 (Caxton FX); £6 FairFX.
But you should treat a currency card like cash in a wallet. It's up to you to guard it and keep your pin secret. You won't get stolen funds refunded if, for example, you wrote down your pin for a thief to find with your card.
My Travel Cash also pays a 1% cashback on purchases abroad.
So should I get one?
A card such as Santander Zero or Halifax Clarity is probably better than these prepaid cards, but only if you are sure you will pay the balance off at the end of the month and not incur interest charges.
If you are not so disciplined a prepaid card can be a good way to budget – but only if you use up the entire balance on holiday. Don't leave any cash on the card – that's how they'll make money out of you.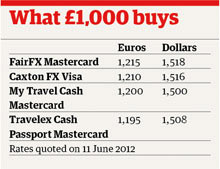 How to get the best from a prepaid card
• Carry enough currency to see you through a couple of days in case ATMs are empty or not working or your card goes missing.
• Always pay in the local currency. If a retailer offers you the option of paying in sterling when using your prepaid card, say no. He may say he's saving you money but, because the funds on your UK card are already denominated in your chosen foreign currency, the opposite is true. If you pay in sterling the retailer converts your payment at their exchange rate and you lose out. Always check the retailer's card machine screen before authorising a payment. If the value is shown in sterling, ask for it to be changed to local currency.
• Don't use your prepaid card to place a security deposit on your hotel or car hire booking. It could mean the amount is blocked on your card and prevent you from using the funds for up to 30 days, according to CaxtonFX. Use another card for security deposits and a prepaid card to settle final bills.
• Automated petrol stations on the continent usually take a security deposit on any sort of card, which may temporarily reduce your balance by more than the petrol cost for several days.
• You cannot use currency cards to pay on most European toll roads.
• Look after your card – you may lose some or all of the funds if the card is lost. A back-up plan is to take another card and leave it in the hotel safe. That way, if your card is stolen, you can block it and use the back-up.
Essential information: where, when and how much
• Caxton FX Euro/Dollar Visa cards Free online at caxtonfx.com. £10 security deposit is taken when the card is applied for online. Card delivered within seven days when holder can then pre-load it. The £10 deposit is refunded to the balance. Purchases abroad free. Foreign ATM withdrawals free (foreign ATM operators may charge their own additional fee). Additional/replacement card fee £5. Redemption fee £1.50.
• FairFX Euro/Dollar Mastercards £9.95 if purchased at www.fairfx.com but free if purchased via partner websites eg at moneysupermarket.com, free plus £5 cashback when you load £500 or more on to card. Purchases abroad free. Foreign ATM withdrawals – €1.50/$2 (foreign ATM operators may charge their own additional fee). Additional/replacement card fee £6. Redemption fee £10.
• My Travel Cash Euro/Dollar MasterCards Free online at mytravelcash.com. Optional 1-3 day express delivery €6/$8 or free if loaded over €800/$1000. Cashback of 1% on all purchases abroad. Foreign ATM withdrawals free (foreign ATM operators may charge their own additional fee). Additional/replacement card fee £3. Redemption fee £5. Inactivity fee £2 after card not used for 12 months.
• Travelex Cash Passport Euro/Dollar Mastercards Free online at www.cashpassport.com. Other versions of Cash Passport cards can be bought in Travelex branches, at certain supermarkets and some building societies. Features and fees on these cards may vary. Purchases abroad free. Foreign ATM withdrawals free (foreign ATM operators may charge their own additional fee). Additional/replacement card free. Redemption fee £6. Inactivity fee £2 if unused for 12 months.
For more news and updates, assistance with your visa needs or for a Free Assessment of your profile for Immigration or Work Visa's just visit www.y-axis.com
Y-Axis